TOP STREAM 32.1Kbps (10 Khz)


KHJ Sales Presentation, 1965 (21:50)
. . .
On KHJ, the maximum commercial time in any spot cluster is seventy seconds
. . .
[Description by Ron Jacobs]
KHJ/Los Angeles General Manager Ken Devaney narrates this demonstration tape designed for sales use in 1965, when "Boss Radio" was a new and yet-to-be-proven phenomenon.
In addition to "the company song", Devaney introduces airchecks from each of the original Boss Jocks: Johnny Williams, Robert W. Morgan, Roger Christian, Gary Mack, The Real Don Steele, Dave Diamond and Sam Riddle. Also featured: newsman Bill Barnard.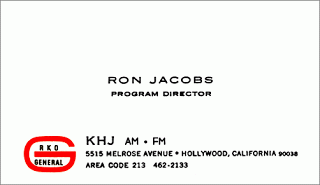 RON JACOBS KHJ Business Card circa 1965
Ken Devaney was the best GM with whom I was ever privileged to associate: He worked his way through law school as an announcer at KMJ/Fresno in the late 1950's. Prior to joining RKO General at KHJ AM he was a VP at Crowell-Collier, at which time that company owned KFWB/Los Angeles, KEWB/San Francisco and KDWB/Minneapolis, all hot stations that were programmed by the legendary Chuck Blore.
Ken and I first met in Fresno in 1962 when I was VP for Colgreene, which owned KMAK. We hit it off. Somehow I think we both sensed that we would be seeing each other again. With his law background and experience at one of the USA's leading broadcast companies, Ken was the best with whom to collaborate. Regardless of what wild thing we were up to, Ken always got it. He opened a law practice in Fresno, CA. in the '70's.
I wrote the copy for the sales promo piece as well as the "song" lyrics, promos and liners on the simulated air checks. Hearing this material opens synapses that have been closed for more than three decades. Listening as I write this, I feel "chicken skin," which is Hawaiian pidgin for "goose pimples." In a wonderful way, because it is so structured, this could be the "purest" text book example of what the very original Boss format and Boss Jocks sounded like on KHJ. It is, for sure, the cleanest presentation of the format before it was altered in any way.
Here's a clue to how early this piece is: The anonymous "host of KHJ Closeup" is Donn Tyler, original KHJ swing man, who briefly preceded Frank Terry in the Boss Jock lineup. (And the answer, therefore, to a great trivia question. Tyler left KHJ after a few weeks and returned to Hawaii, where he opened and successfully ran Commercial Recording for nearly 35 years.)
In the excerpt where he talked about surfing, Tyler knew his stuff. He and I had been friends since junior high; Tyler worked at KPOI/Honolulu when I was PD there and accompanied me to San Bernardino when we launched KMEN. Shortly after, Frank Terry and I roomed and worked together at KMAK/Fresno, where we competed long and hard against Bill Drake, who programmed KYNO during that fierce competition. Does this sound like there was a bit of nepotism going on during the hiring of the original KHJ group? Damn right there was. Both Drake and I realized that this was our shot at the Big Leagues and didn't want to take any more chances than necessary.
Other examples: Robert W. Morgan was on KMAK's side during the "Battle of Fresno." Gary Mack was with the KYNO troops (and made key contributions to Drake's concept of the format.) The Real Don Steele was recommended to Drake by Morgan, who worked with Steele at KEWB/San Francisco prior to KHJ. (Morgan's first wife, Carol, told me Morgan loved the Bay Area so much — and was so uncertain about "the new L. A. gig" — that several times driving south towards KHJ he almost turned around his battered VW Beetle and drove back to San Francisco.)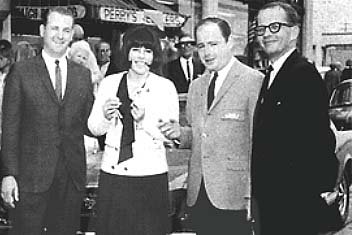 KHJ GM KEN DEVANEY, BOSS RADIO CAR WINNER, PD RON JACOBS, PROMOTION DIRECTOR CLANCY IMUSLAND circa 1965
I thought you'd find these facts interesting. It's quite a trip to once again hear the sounds that engineer Bill Mouzis assembled back in what was laughingly called "the KHJ production room." Production was voiced by the announcer while seated in a converted KHJ-TV announce booth. Visitors to the "trend setting, cutting edge" Boss Radio facility were always shocked to see how hopelessly funky the 1950's setup was.
In reality, Bill Mouzis did all recording and mixing in the hallway that connected the KHJ radio news department with KHJ-TV engineering. It was there that everything Boss was produced: From months of tracking and assembling the 48 hours of "The History of Rock and Roll" to the auditions of dozens of actresses who paraded through, screaming into an old RCA 44 mike: "Tina Delgado is alive, alive!"
Recently a young friend of mine wrote:
"Email greetings from the site of some of your greatest glories. Yes it's 5515 Melrose, the old KHJ, now KCAL-TV building. I have a freelance gig doing on-air promos and such. I keep expecting to bump into the ghosts of the BOSS JOCKS or some still good looking groupies."
Aloha,

Ron Jacobs Kaneohe, Hawaii
August 2001


COMMENTS REGARDING KHJ SALES DEMO, 1965
---