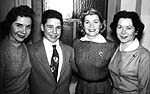 Artie (14) with The Fontane Sisters in 1952 during a rehearsal of the Perry Como Show at CBS Studio 54. Photo by songwriter Bob Merrill ("How Much is that Doggie in the Window?")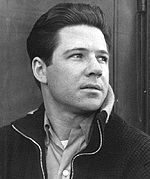 Artie in 1963, from his acting resume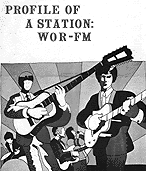 Illustration by Milton Glaser on one of the first WOR-FM promotional pieces.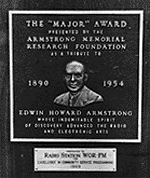 The Major Armstrong Award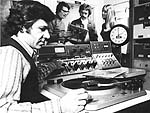 Artie is shown as a "Pick Up Pro" at WOR-FM in an ad for Stanton cartridges (1972). CE Eric Small, PD Sebastian Stone and Kim Olian are shown in the background.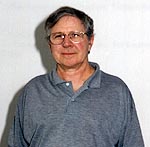 Artie Altro, today.

It's funny how things work in this business. Murray the K got started working for song writer Bob Merrill. When Artie Altro was 14 years old, he went to a rehearsal of The Perry Como Show at CBS Studio 52. While there his picture was taken with The Fontane Sisters by Bob Merrill, who was not only a top song writer, but worked as a utility man on the show keeping the camera cable clear.
Artie started in the business as a Disc Jockey (morning man) in August, 1960 at WDOR in Sturgeon Bay, Wisconsin. After two years he moved on to WREB in Holyoke, Mass. for a short time, then to WFAS in White Plains, which was close to his home and close to New York City.
Artie says, "I studied acting for a while in New York before going to work as an engineer with WOR-FM in 1966 when the FM's were being separated from the AM stations. There I worked with the original 4 disc jockeys: Murray the K, Scott Muni, Rosko (Bill Mercer) and Johnny Michaels. It was Johnny Michaels who got me the job. We worked together at WFAS."
"A lot of radio history was made at WOR-FM. It was the first FM station to play rock-n-roll, and it was one of the first FM stations to make money. In reality, it put FM on the map. Back then, many people did not have FM radios. The first anniversary party for WOR-FM was at a small theater in Greenwich Village, which later became the Fillmore East, and the headliner on the first anniversary show was Jim Morrison and the Doors."
"Not long after one enjoyable year, programmer Bill Drake took over programming the station. The disc jockeys knew they wouldn't fit and didn't want to fit in the Bill Drake format. It was a very restrictive format in what they could play and what they could say. The DJ's all quit and were replaced by people hand picked by Bill Drake himself. I became supervisor and production engineer. Every piece of production during the Bill Drake years passed through my hands."
"In 1969, I produced a three hour Public service special about Childhood Autism. The special won the Major Armstrong Award for excellence in FM programming and the AMA Award for calling attention to a little known illness. One of the guests on the show was Ruth Sullivan, founder and first president of the National Society for Autistic Children. It was Ruth Sullivan and her autistic son that Dustin Hoffman spent a lot of time with researching his part in Rainman, and it was Ruth Sullivan's son who Dustin Hoffman "copied" for his character in the movie."
"In 1978 when radio was downsizing, I was transferred to WOR-TV which later became WWOR-TV. During my time there I was video tape engineer for Joe Franklin, Morton Downey, Jr., Howard Stern and Richard Bey. I have a good collection of out-takes from these shows, but because of copyright reasons, I can't do much with them right now."
"I first met Mort in 1954. It was at a Wallach's clothing store in White Plains, NY. He was a 22 year old cocky, obnoxious kid. He was 55 when I worked with him again at WWOR-TV. He was then a cocky, obnoxious old man. Some things never change."
Our thanks to Artie for sharing his treasures with the Repository.