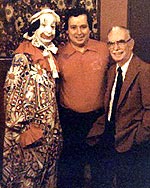 Fred "Mombo" Petrick, Alan Kline, and Max "Dr. Max" Hahn, WMT-TV Cedar Rapids, Iowa, 1981. Alan was a college intern when local TV still meant local kids' shows.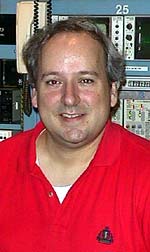 Alan Kline at KCCI-TV, 1998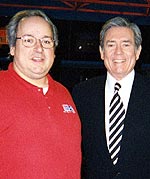 Alan Kline and Dan Rather at KCCI-TV on Iowa Caucus Day, 2000.

Ted Baxter liked to say, "It all started at a 5000-watt radio station in Fresno, California." Well, for me, it started at a 10-watt radio station in West Des Moines, Iowa. KWDM-FM was owned by a high school that I attended, and I did an air shift there. Of course, being a school station, it wasn't "afternoon drive", it was "seventh period". Listening to the airchecks I still have, it's easy to tell why I pursued a career in the technical aspects of broadcasting...
I've always been a DX'er, of sorts. Growing up in northern Illinois, listening to the great Chicago stations was a bit of a long-distance exercise. The great WLS acapella jingles ring in my mind, as do memories of listening with my friends. On my own, I'd also spend time with WGN, and the late Bob Collins, and the Cubs.
Since college, I've been a TV guy, working 15 years in the San Francisco area in operations for a couple of stations, and since 1998 in the engineering department of KCCI-TV, Des Moines, spending most of my time in master control and as a technical director. I still DX, and one of these days will restore my grandfather's old shortwave set.
| | |
| --- | --- |
| Before The Big 610 and The Real Don Steele, there was Don Lee. This is a QSL card from KFRC, with an EKKO verified reception stamp, circa 1928. (Click to Enlarge) | |
I've rather recently become a jingle collector, thanks to KCCI's chief operator, Bob Ogburn. With the patient tolerance of my wife Sharon, I've also started collecting broadcast memorabilia, both programming and technical.
Special thanks to my friend and fellow Iowa Hawkeye fan, Scott Werling, who provided me with copies of jingle contributions here, as well as doing the tape-to-digital conversions.