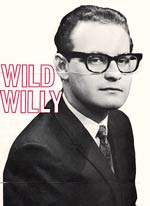 Bill Hennes, aka Wild Willy Mitchell at WNHC, mid 60's.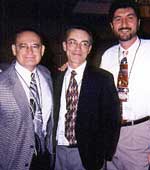 Hennes, Bill Gable, CKLW and Pat Holliday, CKLW at the 1998 Motor City Reunion.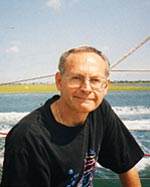 Bill Hennes today, relaxing at home near Wilmington, N.C.

Broadcast Consultant Bill Hennes experienced working in all disciplines of a radio station — from Account Executive and on-air personality to Sales Manager, National Program Director, General Manager and owner.
Hennes grew up in Detroit and started as a part-time DJ at WBRB, Mt. Clemens, Michigan in 1960. In 1963 he developed the character of Wild Willy for the 7pm-Midnight shift at WIBM in Jackson, Michigan. Following stints at WTRX and WTAC in Flint, Hennes took his Wild Willy act to WKLO in Louisville.
His first programming job was at WNHC in New Haven, Connecticut, about which Bill says,
"This was a great place to learn the programming craft. It was a very 'over-radioed' market. Most of the NYC stations, along with Bridgeport and Hartford were audible in New Haven, so it made for a most competitive programming challenge."
In the mid-70's, Hennes was the programming genius behind legendary Top 40 powerhouse CKLW, Detroit/Ontario. From there, he went on to make WMAQ Chicago the #1 country station in the nation. He left his mark of success on stations in Tampa, Indianapolis, Knoxville, and Philadelphia, to name a few.

In 1981, he founded Bill Hennes and Associates, a full-service broadcast consulting company.

Since then, he has consulted hundreds of clients, and is best known for his success with CHR and Country stations. Bill also operates an online trade magazine that connects country radio and music professionals: All About Country (www.allaboutcountry.com)
The Repository thanks Bill for sharing!