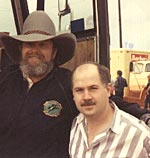 Charlie Daniels and Bob Murphree in Tupelo, Mississippi

Bob in WHBQ Studio A, Memphis, Tennessee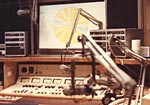 WHBQ Studio "B"

Bob Murphree grew up in Water Valley, Mississippi, approximately 70 miles south of Memphis, Tennesee, listening to WHBQ, WMPS, WLAC, KXOK, WLS & WOAI. (He wonders if anyone remembers when WOAI was Top 40.)
During the '60's and '70's, Bob spent endless hours DXing. He enjoys listening to and trading Top-40 airchecks.
Bob says that guys like Rick Dees, Bob Landree, John Landecker, George Klein and Bob McClain are the jocks he really remembers.
Bob worked at WHBQ from 1983 to 1985 with the late Sid Leak, who was 'HBQ's main newsman until Terrence McKeever arrived. Some of the exhibits in Bob's Collection came from WHBQ.
After 6 years in Memphis, Bob moved back to Water Valley where he now manages WLPX.