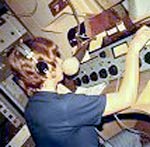 Little Beau at KAKC, Tulsa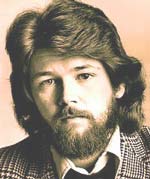 Beau at KHJ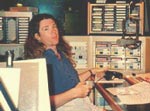 Beau at KRTH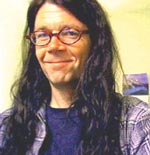 Beau and his new glasses
Beau Weaver, also known as Beauregard Rodriquez Weaver practiced his loose and regrettable behavior in public on top forty legends KHJ, KFRC, KCBQ, KILT, KAKC, and KNUS.
He grew up in Tulsa, and got his start hanging around KAKC the summer Bill Drake became consultant. Beau weaseled his way into the station by bringing fresh KHJ airchecks of Morgan and Steele he obtained from a family friend in California. "At fourteen, I was calling the jocks up on the hitline, telling them about format mistakes they did not know they were making," says Weaver. "Eventually PD Lee Bayley hired me, mostly to shut me up." That paved the way for later stints on sister Drake stations, in Los Angeles and San Francisco.
Michael Spears, who would later take Weaver to KFRC, brought him aboard the groundbreaking team at KNUS, Dallas, the FM station Gordon McLendon kept after selling his legendary KLIF. KNUS was an AOR/Top Forty hybrid that eventually knocked off KLIF, and was one of the first major market FM's to dominate in the Arbitron. It is the marriage of Drake discipline and McLendon showmanship which would be the hallmark of Beau's style.
Beau also spent many years at KILT in Houston, was one of the seven "original astronauts" on the pioneering Transtar Satellite network (now Westwood One), and did a syndicated Oldies show for Global/ABC/Watermark called "Let the Good Times Roll." In the Nineties, Beau was briefly coaxed back on the air for periodic appearances on KRTH/101.
Today, Beau lives in Los Angeles, where he is a prolific voiceover talent, heard daily on network program promos, trailers for feature films, national commercials and animated cartoons. Visit Beau at www.spokenword.com.
Flash! (September 27, 2000) Beau is back on the air!
The Repository thanks Beau Weaver for sharing!