TOP STREAM 64Kbps (15Khz)
. . . Radio, the personal media, continues to grow at a rate that's mind-boggling . . .
[Description by Uncle Ricky]
The narrator of this surprisingly comprehensive review of Boss-Drake-Chenault radio is Michael Gwynne, better known to long-time Repository visitors as the voice of Ron Jacobs' KGB Recycle Documentary. (The Repository also has an exhibit of Michael on KDIA in Oakland, California, from 1967.) Gwynne does a great job here, it's an exemplary soft sell, and very friendly. The delivery is also quite different than the authoritative tone he set for the Recycle Doc.
This REELRADIO exhibit from contributor Curt Lundgren comes from the original 1981 12" vinyl promotional distribution. WOW! Drake-Chenault, at the top of their game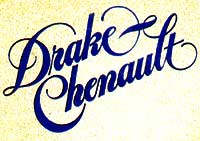 Drake-Chenault Logo
for 1981 LP release. in 1981 with 300+ station clients, circulated this 15-minute demo on ONE 12-inch LP, with another 15 minutes on another 12-inch LP! That's right, about 8 minutes per side, though they did spread the grooves out a bit and were able to make louder LPs. And it was a very impressive, heavy, double LP promo package. It was prepared especially for the NAB Convention that year.
As for this exhibit, which includes both sides of the first LP, you'll hear portions of several exhibits we've featured at REELRADIO over the years, and a few rareties. Interesting also that in a few cases, we have better archives than D-C had in 1981. As for the actual quotes from Bill Drake? Wow.. I don't think we've ever heard as much "up close and personal" as we hear on this demo. I understand that Mr. Drake does not care to be subject to endless questions. But it's nice to hear what he DID say, record and distribute in 1981.
The second half of this exhibit is all about the carefully-targeted formats that were available anywhere they could ship them on reel. The simple genius of Top 40 was now carefully segmented, fragmented, targeted, dayparted, merchandised, duplicated and shipped. And yet, notice how many of the demo songs for each format are mass-appeal and crossed over to other formats!