TOP STREAM 64Kbps (15KHz Web-TV compatible Stereo)

Dave Donavon (Joe Cipriano) KKHR Los Angeles, 1984 (11:33)
. . . My gosh, you've broken the legometer! . . .
[Description by Uncle Ricky]
In this tightly-edited Hi-Fi STEREO composite of KKHR-FM/Los Angeles from 1984, Voice-Over Superstar Joe Cipriano is heard playin' the hits in the starring role of Dave Donavon, the darling of valley gurlz everywhere.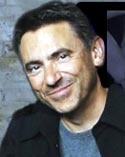 Joe Cipriano, 2006.
(Visit his website!)

Cipriano was on the radio in Waterbury, Connecticut, while still in high school. He joined KHTZ/Los Angeles from WRQX/Washington, D.C. in 1980. He moved to KKHR in 1983 and KIIS/Los Angeles in 1985. He began his voice-over career doing the trailers and spots for Porky's II - The Next Day and Fast Times at Ridgemont High. He followed with work for the FOX, NBC, ABC and CBS TV and Radio networks. In 2006, Joe celebrated his 18th year as the "Voice" of the FOX-TV Network.

One interesting technique that Joe demonstrates here involves repeating portions of a song intro to allow longer phone bits.