Jeffrey Starr, Composite, WAAB, KTLK, WKBW, 1968-1970 (10:23)
. . . A little display of Starr Power, a chance to blow your own horn . . .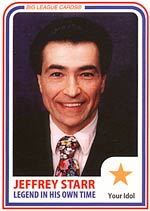 Jeffrey Starr, Radio/TV Personality, Master Hypnotherapist, Justice of the Peace, Always has a Positive Mental Attitude

Jeffrey Starr's first full-time gig was at WAAB in Worcester, MA in 1967, where he was Playboy's "Deejay of the Year". In 1968, he was voted Most Handsome DJ in the World, by the readers of Teen Life magazine, a title he still holds (there was never another contest). Dick Clark called Starr on American Bandstand regarding the contest.
At WORC in Worcester, Starr hosted the first full time "progressive underground rock" music show on an AM station. The group Spirit mentions Jeffrey Starr on their album Twelve Dreams of Dr. Sardonicus.
Starr worked, among others, at WPRO-FM in Providence, KTLK in Denver, WKBW in Buffalo and WBOS in Boston. At KTLK, Starr was involved in a mysterious contest relating to the rumors of Paul McCartney's death and a place called "Pepperland". KTLK claimed that Starr had been abducted. The FBI got involved trying to locate him after he vanished while on the air. The FCC later fined KTLK for conducting a contest that allegedly couldn't be won.
Starr is still on the air in the Massachusetts/Rhode Island TV market with The Jeffrey Starr Show, along with voiceover and modeling work. He owns Starr Power Enterprises, and his motto is: There is always hope!