TOP STREAM 16.2Kbps (8KHz)


Johnny Walker, WALT Tampa Florida, 1967 (17:50)
. . . on the go sound of Tampa Bay . . .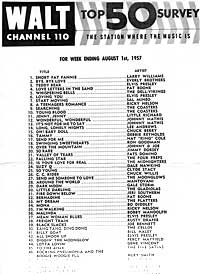 WALT Top 50 Survey, August 1, 1957

[Description by Uncle Ricky]

A directional daytimer on 1110 Khz, WALT in Tampa Bay, Florida was distributing a Top 50 survey as early as 1957, and was a serious Top 40 contender for many years.

This aircheck, retrieved from a 1-7/8 ips reel recording by contributor Dick Wheeler, features Johnny Walker on the Solid Gold Weekend of April 23, 1967. It's complete with reverb!

WALT carried the Chickenman series and was using Gwinsound jingles (Series 5 or 9?) in 1967. In addition to a local newscast, you will also hear a full report from Mutual newscaster James Hall. (The classic Mutual news intro and close is included.) One politically incorrect surprise is Bill Dana appearing as Jose Jimenez for the then yet-to-be-deregulated Bell System. We must also wonder what the heck was in that Compoz stuff - it was only 98 cents, but seemed to be just the thing for relief of "simple nervous tension" - without a prescription!

Walker makes reference to a WALT co-worker named Robert L. Collins. Could this be the long-time WGN personality who died in an air crash in February, 2000?