TOP STREAM 32Kbps (10KHz)

KYNO Boss Look Back, Part One, September 1, 2008 (55:59)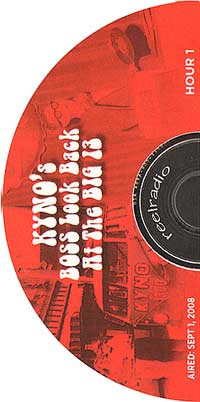 . . . Boss Radio! The Big 13 . . .
[Description by Uncle Ricky]
John Ostlund grew up in central California, listening to KFRC in San Francisco and KYNO in Fresno. He ran an advertising agency for years, then purchased KJWL-FM in Fresno. But it was always his dream to own KYNO, and when the opportunity came along in 2008, he took it. To celebrate the station's great history and introduce a return to english-language talk programming, he asked his Production Manager Jim Roberts to create a KYNO Tribute special, which was broadcast on September 1, 2008.
Hour 1 leads off with a 1968 aircheck of Johnny Scott (aka Bobby Ocean, who also appears in his 2008 personna), followed by an interview with John Ostlund, followed by a 1971 aircheck of his Boss Jock brother, Ron Sherman. Nick Anthony is featured before a montage of classic KYNO contest promotional announcements, including the KYNO Millionaire and the first part of an interview with 1963 PD Bill Drake.
The airchecks are all partially (if not totally) 'scoped, but some full-length tunes are included, too. Some airchecks have appeared previously on REELRADIO. (Our thanks to KYNO for the REELRADIO promo, heard in this hour.) Also featured: Pete McNeal, Dirk Robinson, long-time Fresno newsman John Wallace and even some pre-Drake jingles.