TOP STREAM 44.1Kbps (20KHz)


ButterNut Coffee Presents Omaha Starring Stan Freberg (08:33)
. . . What business of yours are my cheeks? . . .
[Description from Capitol Records EAP 1-1101]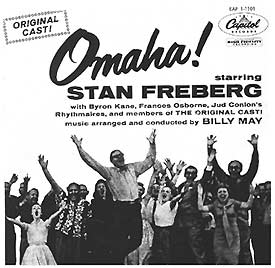 Rarely has a theatrical event been awaited with such rhapsodic expectations as 1958's incontestable musical champion "Omaha!" Certain skeptics shook their heads and announced, "It cannot be done," when Stan Freberg made public his intention to turn a commercial into a full-length musical. The valiant Freberg turned a deaf ear on the skeptics and proceeded on the work which, he exclaims, "has all my life been burning within me like a brazier of hot coals, crying out 'hear me ! play me ! sing me!'"
The story, terrifying in its understatement, occurs in the small Midwestern city of Omaha, Nebraska, a city rich in comedy, rich in the tragedy of the Plains. The tale is that of an Omaha boy swiped by gypsies at an early age and reared in the shadow of tea leaves, who returns to his native city to wreak vengeance on the town's fun-loving citizens in a heartless and unusual fashion.
Asked if the plot is autobiographical, Freberg's pale blue eyes mist over and a shy smile plays about his mouth as he toys with the giant golden earring borne by his right ear. A more direct answer than that single subtle indication he will not give.
In its conception and execution, "Omaha!" is indeed a one-man work. The writer of the show's book, lyrics and music, it's producer-director, young Freberg plays the starring role of Biff as well. He brings to the swashbuckling devil-may-care hero a sensitivity, a poignant insight unparalleled in American theatre.

Each individual performance, actually, is a theatrical landmark. Has a heroine ever been played with such wry innocence, such primal strength as is Julie, portrayed by Frances Osborne? Her arresting vibrato moved Freberg nearly to tears. The great military leader, Major Bowes, upon hearing Miss Osborne perform as a child, rose quickly from his chair and announced, "This is a voice I will not easily forget." Byron Kane, as Eustace K. ButterNut, is a poem of villainy. He elicits from the character — a deep and passionate one to begin with — moods and overtones of moods that Freberg never dreamed possible in the writing.
As for the show's songs and their bittersweet Billy May arrangements, nothing that can be said of them will really capture their special quality. From the haunting strains of the show's love ballad, I Look In Your Face And I See Omaha, to the rollicking rhythms of the title song there is not an ordinary moment, not a moment that doesn't crackle with lustiness and joie.
In short, this is a show to be remembered, a show that critics and non-critics alike will be talking of in hushed tones of wonderment years from now. We're glad Mr. Freberg had the derring-do to dare to do what everyone said was impossible — that of taking a delightful little moment and enlarging it into a spectacularly momentous evening of theatre. Yes indeed, you're doing fine, Omaha! Omaha, okay!
-from the back cover of Capitol Records EAP 1-1101