| | |
| --- | --- |
| | Thanks to Ron Rodrigues, Executive Producer and Editor-in-Chief of Radio & Records for Radio: The Radio & Records Years. |

. . . we got 89 stations and one morning guy . . . . . . this was once 1050, but for you, 660 . . . . . . the world's largest anti-disco rally . . .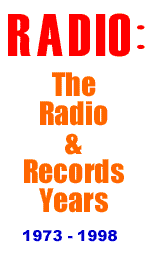 REALVIDEO 8.0 TOP STREAM 225Kbps

Radio: The Radio & Records Years (14:40)
ORIGINAL DEBUT: August 16, 1998.
RE-ENCODED REALVIDEO 8.0: October 13, 2001
Here's the the video that got great reviews at the Radio & Records 25th Anniversary Convention in Los Angeles, June, 1998. The Reel Top 40 Radio Repository was asked to help with aircheck material for this production.
Bob Shannon of TM Century Productions wrote and produced this smooth and satisfying sample of sounds from before and during the time that R&R has been published. Credits dedicate it to "those who came before and showed us the way", and "those who will follow and go their own way".
As to the enormous task of producing a single quarter-hour intended to represent 25 years of radio evolution, Bob writes:
After gathering tape I ended up with close to 130 hours. This was edited down to approx. 7 hours of likely things to use...which eventually became about 36 minutes. These 36 minutes are likely to be released in audio form as a "director's cut". For the video presentation, however, I had to edit the final audio down to 15 minutes - a painful experience guaranteed to offend some. Still, if one believes that you're not hurt by what you don't play...
Included: Robert W. Morgan, The Real Don Steele, Bill Drake, Bob Grant, Scott Shannon, Howard Stern, Mancow Muller, Dr. Laura, Rick Sklar, Jack McCoy, Charlie Tuna, Jack Armstrong, Wolfman Jack, Dustin Hoffman, Robert Redford, Harry Carey, Steve Dahl, Dan Ingram, Tom Joyner, Terry Nelson, Bobby Ocean, Jeff Christie and others.
Written and produced by Bob Shannon of TM Century Productions. Audio Editing by Archer. Additional Credits: Art Vuolo, Jo Interrante, Michael Spears, Ed Salamon, Rusty Humphries, Elroy Smith, Ron Harris, Rob Wexler, Ira Lipson, Al Casey, Dan Pearman, Bob Ward, David Gleason, Ron Jacobs, Jeff Davis and "Ricky" Irwin, www.reelradio.com.