TOP STREAM 32Kbps (12KHz)

Sandy Jackson, KOIL Omaha NE March 7, 1962 (59:23)
. . . Every day's a special day at Hinky Dinky! . . .
[Description by contributor Clark Besch]
My friend Sandy Jackson died January 16, 2006 at age 84. He was my broadcasting hero. I never knew Sandy until after his career in broadcasting was over. When I learned his story, I interviewed him and we became great friends over the last 2 decades.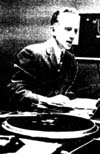 Young Sandy Jackson

A 1941 Variety Magazine headline first coined the term "Disc Jockey". Sandy Jackson joined Omaha's daytimer KOWH in 1943, adding a shift at fulltimer KBON at night soon thereafter. In 1944, Sandy got to be a "disc jockey" when he was given the chance to program a live hour locally from 11PM to midnight on the weekends. His hour shows (known as the "1490 Swing Club") became Omaha's first "request" show playing the 78s requested by listeners. Soon, Sandy added more shows and did remotes. He married his wonderful wife, Peggy, and they were together 60 years. He ended up on the air opposite

Johnny Carson

(on

WOW

) in the late 40's.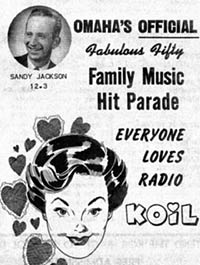 Good Guy Sandy Jackson

Sandy "broke in" a young

Todd Storz

in the late 40's. Todd moved into sales at KBON and in 1949 bought KOWH. "The Sandy Jackson Show" was soon exclusively on KOWH. KOWH was an independent 5000-watt daytimer and they had live broadcasting that reached a million listeners over 6 states. Storz developed his "Top 40" format and in 1952, KOWH was #1 in Omaha with a 36% share. With rock 'n roll, KOWH brought in many top stars of the day. Sandy sadly remembered that black stars like

Ella Fitzgerald

were kept from staying in downtown hotels due to their race.

Crosstown rival KOIL switched to Top 40 in 1959. With KOIL being a fulltime station, KOWH lost listeners and soon Sandy jumped to KOIL. Storz sold KOWH, and sadly died in 1964. KOIL was owned by Gordon McClendon's good friend, Don Burden. Don made Sandy production director at KOIL.

This exhibit is UNSCOPED, meaning that all the music is included. We are required to pay a fee for each listener for all musical performances on this recording. Plus, we must also pay the cost of Internet bandwidth to deliver it to you. We are a user-supported organization, and if you enjoy this exhibit,

please say thanks with your support

.

In 1964, Sandy was forced to leave KOIL when he opened his own teen club. For 6 years, "Sandy's Escape" was THE spot for teen dances. He returned to radio in 1970 at MOR station WOW. In the mid-70's, he moved over to FM before retiring in 1981. He was on the radio before there was FM, and retired on FM!

Through it all, he made the transition from daytime AM big band shows to Top 40 innovation, to garage band teen clubs to FM. The man was a radio icon in Nebraska and the nicest guy anyone would ever want to know.

I have to say that this 3/7/62 aircheck came from my good friend Tom Konard. THANKS, Tom! [Portions Restored]