TOP STREAM 32Kbps (10KHz)

Soupy Sales with Ted Brown & Nola Roeper,
WNEW New York May 11, 1987 (43:23)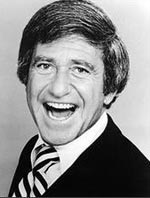 Soupy Sales . . . Again, with the string? . . .
[Description by Uncle Ricky]
Soupy Sales was born in Franklinton, N.C. and passed away October 22, 2009 in New York at the age of 83. He served in the U.S. Navy and following WWII, his radio career got underway in West Virginia as DJ Soupy Heinz.
His TV career started in Cincinatti and the Associated Press says he took 20,000 pies in his face in 5,000 TV appearances, including guest host of The Tonight Show. His greatest TV success was in New York on The Soupy Sales Show. He was also a popular guest on many television shows from 1968 to 1975. In addition to regular appearances on New York radio, he hosted a syndicated radio program.
This wonderful exhibit from May 11, 1985 features Soupy's appearance with Ted Brown (d. March 20, 2005) and Nola Roeper on WNEW-AM. Soupy has written a new book, "Did You Hear The One About?", and a good time is had by all. Listen for the celebrity promos and the Hank Minatra feature.