TOP STREAM 64.1Kbps (16KHz)


WAPE Jacksonville 40th Reunion, 1999 (2:08:32)
. . . It's nice to be in a museum when you're not dead . . .
[Description by Uncle Ricky]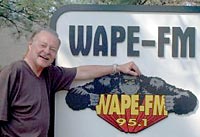 Contributor and WAPE Morning Zookeeper Hoyle Dempsey

On April 10th, 1999, WAPE-FM Jacksonville, Florida, PD Cat Thomas and the WAPE Alumni Association brought together many current and former WAPE personalities for the WAPE 40th Reunion.

This two-hour composite of the original four hours features much of the fun and warmth of the reunion broadcast. Classic jingles, airchecks, and great stories are included, along with (in no particular order): Hoyle Dempsey, Tim Byrd, Jay Thomas, Bill Burkett, The Greaseman, Cleveland Wheeler, Dr. X, World Famous Tom Murphy, Tony Mann, Mark the Shark, Candy Clutch, Train on the Radio, Shannon West, Phil Beckman, Robby Rose, Dr. A. J. Davis, Pete Owen and Alan Moore.

This is a wonderfully entertaining exhibit and it's packed with lots of personal remembrances certain to delight broadcasters and listeners alike. Our thanks to Hoyle for making this tribute to the legendary WAPE available to REELRADIO.