TOP STREAM 32.0 Kbps (10Khz)


Johnny Williams, CKLW Composite, 1972-1973 (38:15)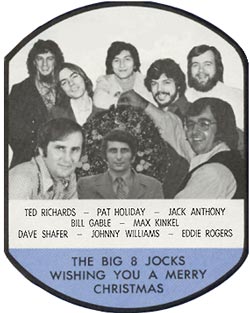 From the December 12, 1972
CKLW "Big 30"
. . . Billy Paul and Mrs. Jones are in the car, and Mrs. Jones says, 'Gee, I'm so glad that you brought the pink El Dorado - nobody will ever know it's us . . .
[Description by Gary Tinnes]
The first five minutes of this composite of Johnny Williams was taken from a 30-minute segment recorded in May 1972. This was about a month after I started working at CKLW. We were still at the old studios on Riverside Drive. We would always mix from a radio receiver in the studio so that we heard exactly what was going on the air. I think the background noise may have been from when we switched to a 5 KW transmitter, on Sunday nights, so that they could do maintenance on the 50 KW transmitter. I think we were the only station, on the air and playing rock music, on Sunday night. Everyone else was either off the air or dumped their religious programming into that time slot. There is a complete promo for the CKLW Top 300 of 1972.
"would you put on your hub caps please"
"who wants wine, I'll take the girl"
"George Baker Selection and his Little Green Bag... I think I took her out last night"
"what you see is what you get, an underfed, underpaid, disc jockey"
"Hollies, he ain't heavy, he's the competition... uh-huh..what competition"
"clean up the slippery spots in your work area... ok, Mr. Engineer, get out"
"well son-of-a-gun yourself... what'd you expect KHJ?"
"it takes two... I knew I was doing something wrong"
"we'll send that one out to the PJ party in Hazel Park, and, uh, girls, I forgot my toothbrush there last night"
"this is solid gold, and Three Dog Night, Mama Told Me Not To Cooommmme"
"your momma don't dance and your daddy don't rock'n'roll... what do you do... oh, I can't say that"
"fee, fi, foe, fum...look, there goes my Sealy again"
"jumbalaya, honey, catfish pie, what does he say there... I don't want to eat it anyway"
"high time we went, certainly is, but I don't have a dime"
"the best news I've seen in a long time, the four parties in the Vietnam war signed a peace treaty in Paris this morning"
"Blue Haze and Smoke Gets In Your Eyes and then it gets in your throat and you sound like this..."
"Peggy Scott, Jo Jo Bension, let's you and I go to the no-tell place"
"Funkadelic, your folks and my folks gettin' together... gee, I hope we don't get caught"
"Edwin Starr, You See My Baby, SOS, that's not army talk, stop her on sight"
"Three Dog Night, my all time favorite, Mama Told Me Not To Come, but I went anyway... so take that mama"
The next five minutes was 'scoped from a 35-minute segment from September 1972. We had moved into the new studios that summer. They had started to implement changes to the sound and you can hear the difference. You will hear parts of Crazy Jack's Sound Factory spots. In hindsight, I wish I had taped the entire spot. Some of them were really creative.
The next eleven minutes comes from a one and a half-hour segment in January 1973. The rest was taken from various shorter segments.
There is a Christmas Wish promo for a date with Byron MacGregor, around 29 minutes into the segment, with voice over by Eddie Rogers. This was not recorded off the air, but it was featured. It includes the Christmas Wish jingle, probably one of the nicest jingles ever made.