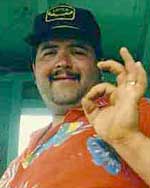 Hayes at the wheel of the radio ship "Sarah" during infamous broadcasts from the high seas, July '87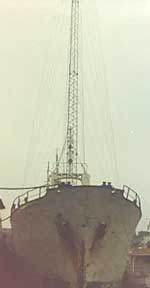 Here's the Sarah, equipped with 5 radio transmitters, at port in Boston, July 1987.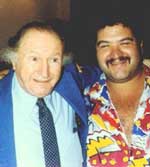 During the incredible media frenzy following Hank's exploits on Radio New York International, "Grandpa" Al Lewis hosted a dinner for the crew at his restaurant.

John "Hank Hayes" Calabro was born in Brooklyn, N.Y. in 1960. Raised on the WMCA Good Guys, Musicradio 77 WABC, 99X and CKLW, Hank says "Radio needs three things: personality, jingles and reverb!"
In the mid '70's, disco had taken over the airwaves of New York City, personality radio was hard to find and jingles had been replaced by shotguns.
This situation led to Hank and a friend taking matters into their own hands by signing on their own radio station — without benefit of a license.
They rocked and rolled for many years, through several FCC raids, all for the sake of radio like they knew it could be — and should be.
In 1987, Hank was one of the crew of Radio New York International, who sailed a 150 foot long rustbucket of a radio ship (Sarah) and anchored it 4.5 miles off the coast of the U.S.A — in international waters, and out of the reach of the FCC — or so they thought.
After bringing their brand of rock and roll radio to the world for three days, the FCC, along with the U.S. Coast Guard, seized the ship and shut them down once again.
After that, Hank created Radio Free New York and had a weekly show on the world wide shortwave transmitters of WWCR, Nashville. He featured PAMS jingles (sung by Ken R of Toledo, Ohio,) lots of personality, rock and roll for the kids, and plenty of reverb. He interviewed radio giants Jackson Armstrong, Bwanna Johnny, Howard Hoffman, Tom Leykis, Ron O'Brien, Johnny Mann, and lots more.
Hank says, "I've been an avid fan of The Reel Radio Repository from the very beginning and I'm honored to be able to be part of it! Thanks, Uncle Ricky!"
The Repository likewise extends our sincere appreciation to Hank for his contributions!