[Description by by Kevin Gershan]
Christmas was always a special time for Robert W. Morgan and his morning shows always reflected that with stories, warmth and humor. This aircheck from Friday, December 23, 1983 is a good representation of those shows on Gene Autry's 710/KMPC in Los Angeles.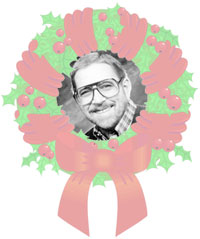 Robert W. and "The Good Morgan" team consists, this day, of Robert W. Morgan, Bud Tucker (Sports), Marv Howard (News, filling in for Tom Wayman), Cliff Welch (Traffic, filling in for Pamela McGuiness) and Dave DeSoto (Traffic), with a special guest appearance by Big John McElhinney.
KMPC, at that time, was a very unique, family-oriented station with lots of long-time loyal listeners. The listeners always told Robert W. and the rest of the air personalities how much the station was an important part of their lives. Far from the tight non-stop, highly-programmed format of the Boss Radio days, this station had great success with the type of one-on-one communication which is almost non-existent in today's radio landscape.