| | |
| --- | --- |
| | THE ROBERT W. MORGAN BOSSOGRAPHY PAGE 10 |

Gary Owens and Joni Caryl host the KRTH Retirement Tribute to Robert W. Morgan


Joni and Robert W. Morgan

On January 9, 1998 K-EARTH 101 held a retirement tribute for their star morning man at the Museum of Television and Radio in Beverly Hills.

The tribute included a re-dedication of Robert's Star on the Hollywood Walk Of Fame, and the three hour broadcast from the museum's theatre, hosted by Gary Owens and Joni Caryl, concluded with a thirty minute retrospective on Robert's career, narrated by the legendary Dick Clark.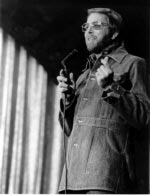 The quick-witted Morgan has always been the hardest working jock in show business…arriving at work in the pre-dawn hours to scour wire services along with local and national newspapers, review prep material and gear up for the day's performance.

Like his former program director Ron Jacobs once taught him: Preparation, Concentration and Moderation is the best offense in the battle for the most competitive radio market in the country.
| | |
| --- | --- |
| | Robert's impeccable sense of timing, acerbic wit and his unique ability to talk one-on-one to his audience for over four decades has earned him the title of being a "jock's jock". |
| He has influenced generations of radio people worldwide striving to be a cut above the rest. | |
For the millions of Los Angeles listeners who, for over three decades, have started their day with a "Good Morgan", Robert W. Morgan's retirement marks the end of an era…and a way of life.
Morning drive radio will never be the same without the man we've grown to love and respect as the BEST BOSS JOCK IN THE BIZ !

ROBERT W. MORGAN

©1998 Kevin Gershan and the Reel Top 40 Radio Repository