TOP STREAM 32Kbps (14KHz)

Casey Kasem, American Top 40 for AFRTS, May 19 1973 (55:53)
. . . no educational credits will be given for courses in bartending . . .
[Description by contributor Pete Battistini]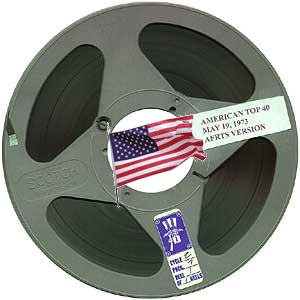 Back in the early 70s, Watermark produced a one-hour American Top 40 program for AFRTS affiliates every week. They took the "meat" of the last hour and added a special AFRTS beginning and ending and, between the split logos, mixed in commercials voiced by Casey Kasem and designed exclusively for servicemen.
This exhibit is one of a handful of reel-to-reel tapes of the American Top 40 radio program containing these broadcasts. (Overall, they are in excellent condition.) I believe that these reels originated directly from Watermark and were recorded from the master tapes. (With the exception of the master, I don't think you can improve on audio quality.) Among the tapes, and within the embers of the Vietnam war, there was more than one for the program dated May 19, 1973. I am donating one of these AFRTS-version reels to REELRADIO.