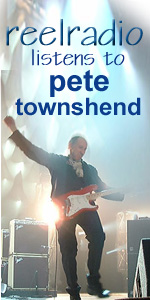 by Richard Irwin
This interview is a gift from Pete Townshend to his friends and fans at REELRADIO. It started because Pete visited the site, got caught up in the magic of a few classic airchecks, and wrote me e-mail. I didn't believe it was him and asked for an interview. He agreed. I was, and am still, astounded - and flattered by the attention.

In this interview, recorded and edited between August and November of 2000, in Sacramento and Richmond U.K., we asked Pete Townshend to talk about radio, Internet radio, and the Internet, which he did, most eloquently. From the first listen, I was taken with his comfort and candor. He shares his recollections and predictions openly and personably... I figure REELRADIO made a good impression. All regular users and contributors to this site share credit for that.

I couldn't resist trying to make a radio program from the raw materials. Our questions were recorded on August 18th. Pete's answers were recorded on September 14th. The program was produced in October and November (2000). It runs just under an hour (58:34) and was presented in three parts.

Part One went online the week of November 26, 2000, and Part Three went online the week of December 10, 2000. Like the great majority of REELRADIO exhibits, all portions of this program will remain online indefinitely.