HELP US CONSERVE BANDWIDTH. IF YOU ARE UNABLE TO ENJOY THE VIDEO AT BROADBAND RATES, PLEASE CHOOSE AN AUDIO EXHIBIT.

REAL G2 VIDEO 8, TOP STREAM 470Kbps, 30 fps, 10Khz Mono

The Real Don Steele TV Show VIDEO, 1974 (58:07)

REAL G2 AUDIO ONLY, TOP STREAM 32Kbps, 10Khz Mono


The Real Don Steele TV Show AUDIO, 1974 (58:07)

REAL G2 AUDIO ONLY, TOP STREAM 32Kbps, 10Khz Mono


Real Don Steele TV Show AUDIO SCOPED, 1974 (10:25)



. . . Take your time, we're Union . . .
DESCRIPTION BY UNCLE RICKY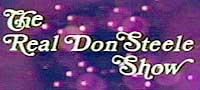 The Real Don Steelers and The Hot Horde join The Real Don Steele in this rare off-the-air recording of KHJ-TV and The Real Don Steele Show from a Saturday evening in 1974. Here's more about the RDS TV show! And here's a cool promotional picture from the Channel 9 PRESS KIT. Our thanks to Ray Randolph.
Musical guests include Syl Johnson and The Hues Corporation who perform on video tape. Don's special guest is Glam Rocker Gary Glitter, live in studio (31 years prior to his 2005 conviction for child abuse) and with his band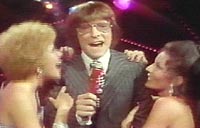 on film. Can you imagine a TV host actually pushing a dancer off the stage and pulling the next one on, as RDS does during Freak-Out Dance Time? The hour closes with Show Biz News Stuff, and despite Steele's energetic enthusiasm, no one is injured! It is notable that the youthful and trim RDS you see here was already 38 years old when this show was recorded.
How quickly we forget: The majority of commercials in this hour are on film! It's a safe bet that in 1974, KHJ-TV had a full staff of film editors. Most commercial breaks were spliced together, leadered for the breaks in each show. There are some terrific spots for some really forgettable movies. I thought it might have been been Linda 'Exorcist' Blair selling deodorant, but our editorial board favors Glynnis O'Connor (see COMMENTS). If I'm not mistaken, the voice of the ID, and the tags, and the promos, was the Booth Announcer for that shift. RDS refers to him as "Soft-Sell Dick". Who was this professional announcer?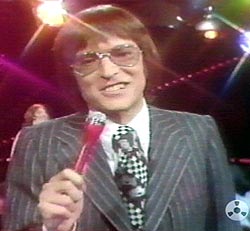 It's amazing that this recording exists and REELRADIO is very fortunate to share it with you. It was saved on a fairly new gadget at the time — an open-reel, color video recorder, connected to the "video" and "audio" jacks of a high-end consumer television.
The Real Don Steele Collection is pleased to introduce this exhibit on what would have been Don's 71st birthday - April 1, 2007.

COMMENTS ON THE REAL DON STEELE TV SHOW, 1974