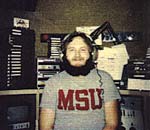 Rob Grayson, WHBQ, 1977

The main hallway at WHBQ - they didn't want you to forget where you were.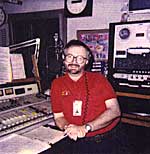 Rob Grayson at FM-100, WMC-FM, Memphis, 1995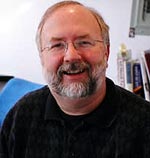 Rob Grayson in the Sirius studio at Graceland, 2005

Rob Grayson says, "I was the typical child-prodigy disc jockey. My first after school job was an airshift at an easy listening FM in Greenville, Mississippi, at age 14. My main influences were my brother Walt, who preceded me in radio; WLS Musicradio, especially Bill Bailey and John Landecker, and top 40 stations from the closest "big" markets like Jackson, Mississippi, (WJDX, WRBC) and Memphis (WHBQ and WMPS).
During my senior year in high school, I got a job doing weekends at WJDX, which meant a 120 mile commute one way, but hey, it was the big time! A year and a half later, George Klein was kind enough to give me a break at WHBQ, and I was able to have a front row seat to witness AM top 40's last stand. Rick Dees came aboard and took the Q for quite a ratings ride. As a matter of fact, I would say that Rick single-handedly staved off the FM onslaught until his departure for Los Angeles.
I did middays as a part of the final Top 40 crew at Plough's flagship station, WMPS, and moved on to do Superstars AOR with one of the greatest families I ever worked with at WZXR (now WEGR).
My duties have always involved production, and I made a segue into a permanent "production shift" in 1988, as a recording engineer/producer at Wilkerson Sound Studios in Memphis (founded by former WHBQ jock and production whiz, the late Skip Wilkerson).
From August 2004 until October, 2005, I did the morning show on Sirius Satellite Radio, Channel 13 — Elvis Radio. It was an all-Elvis station broadcasting from studios at Graceland here in Memphis.
I spend the rest of my time keeping up with my wife and daughter, and playing bass in my church's Praise Band. But, enough about me. . ."