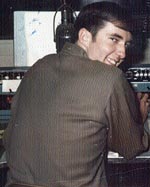 Robert O'Brian

,
KLCN, 1967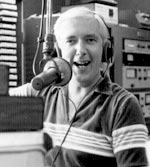 Robert O'Brian

,
KRKO, 1978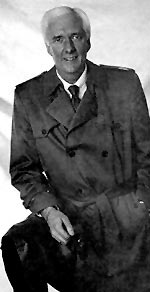 Robert O'Brian

, 1995

By Robert O'Brian (Robert Witham)
It was way, way back in 1957 or '58 that I knew that radio had to be just about the coolest thing ever invented. I remember having a 7-transistor "Silvertone" radio from Sears under my pillow at night so I "wouldn't miss anything". I think I was in the 6th grade, and I remember listening to KAYO, KJR, KING, and later KTW and KOL as the "radio wars" started in Seattle.
There were people like Al Cummings on KING, or the Breakfast Club with Clifford and Clark, then, one day KAYO started playing records that featured artists like Fats Domino. My Father had a fit. "Don't bob your head to that music" he said at the breakfast table. I think my destiny was set at that point, I had to, some how, some way be on the radio. But, what a lesson I had to learn.
In 1961 I entered high school. I taped and played promos (cut by the Seattle Radio personalities) in the lunchroom at school. That was mv first meeting with Pat O'Day. Pat cut a promo for me to play at my lunch DJ party at school. Cool eh!
I fell in love with radio and everything it had to offer. I didn't get into broadcasting until I was stationed during the "conflict" at Blytheville, Arkansas for the Air Force, (not one enemy fighter made it past me). I witnessed the start of WMC-FM aka FM 100 in Memphis. I worked at KLCN in Blytheville, and tried to get it to sound good too. During that period of time, I returned home and recorded some tapes to take back with me to the airbase. This is how I happened to get these gems from some legends! I think you'll enjoy.
AS for my career, after leaving KLCN, I went to KGY in Olympia, to KALE in the Tri-Cities, to KNDO-TV in Yakima (oops a wrong move there) then to KRKO and KWYZ in Everett. Some brief stints in Seattle, and then into sales for Trader Publishing Company (I needed to make some money). I was at Trader for 9 years, now retired and loving it!
And now.. "Serving the 'Sound' from Seattle....."