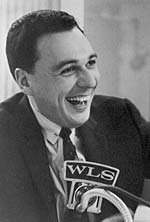 Ron Riley, WLS, 1966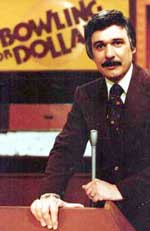 Ron Riley on Bowling for Dollars, Baltimore, 1976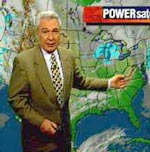 Ron Riley on Channel 8, today

Ron Riley's first Top 40 job was with WOKY in Milwaukee, Wisconsin, in 1960. He made brief stops at WRIT (Milwaukee) and KXOK, St. Louis (1961) before his first tour of Chicago at WJJD. That ended with a format change in 1962, when the entire staff was ordered "off the boat".
He accepted vacation fill-in back in Milwaukee at WOKY, and about 5 minutes after he did, Gene Taylor called from WLS asked if he'd like to do the all night show for five weeks.
Riley explained that he had just made a commitment to WOKY, and Taylor said, "Well, Ron - do what you want, but it would give me a nice chance to hear you on WLS." So, Riley did both jobs for over a month, six days a week.
He would drive to Milwaukee and do afternoons, then drive back to Chicago, sleep for a few hours, and then do the overnight show at WLS. "It turned out to be the smartest thing I ever did," says Ron. "You gotta take those chances."
Riley went on to WHK in Cleveland, and in early 1963, Taylor called again. Dick Biondi had been sacked, Art Roberts was moving to Biondi's old slot at 9, and Riley was offered the early evening show.
Riley left WLS in 1970, took a quick rebound gig at WCFL, and then in August of 1971, he moved to an on-air/PD job at WCAO Baltimore.
In 1982, he went into television full-time. Ron is currently one of the personalities at News Channel 8 (Maryland, Virginia, Washington, D.C.) Visit Ron Riley at www.ronriley.com!
The Repository thanks Ron Riley for sharing!