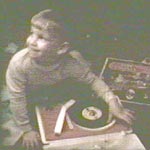 DJ-to-be Russell Wells at his fourth birthday. Shown with his new record player, it looks like he's *cueing* the record to play!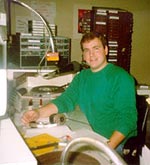 Russell at KOTN, Pine Bluff Arkansas, age 24. (1989)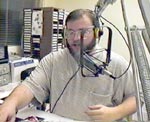 Russell at WTBF, Troy, AL. (1997)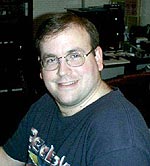 And Russell recently, (October, 2000)

A fan of radio since he was able to touch a knob, Russell Wells knew what he wanted to do for a living since kindergarten. He first began to notice radio stations at age 4, while living in a small town outside Huntsville, Alabama. "While my mother would run errands downtown, she'd always park in front of the drug store, and turn the key over to "accessory", and let me play with the radio. While it's not a smart thing to do with a small child, especially today, it was 1969 ... and Mom knew I was so focused on that radio that nothing else in the car mattered."
From there he discovered some of the great Southern stations, such as Birmingham's WSGN. That became his favorite station, and he enjoyed the likes of Steve Norris, Amaysa (Jo Jo) Kincaid, Jon Bass, and, later, a very young Rick Dees. "I moved a lot during my childhood, but my grandparents lived in Alabama, so I'd get to come back during the Summer. Birmingham radio during the 1970s was a hotbed of competition, with three stations - WSGN, WERC and WVOK - competing for the top-40 audience."
Russell went on to live in such exotic places as Tupelo, Miss., and Cape Girardeau, Missouri, followed by several places in Arkansas. His first job in radio was at KBHS 590/Hot Springs, at the tender age of 17. After graduating from Arkansas State University with a degree in - what else - Radio/TV, he started his fulltime career in Pine Bluff, Ark., working at KOTN, which was a major small-market top-40 during the 1960s and 1970s.
In 1990, he entered Public Radio, working for many years at WTSU/Southeastern Public Radio in Troy and Montgomery, Alabama, and recently became Operations Manager for the coastal Georgia Public Radio affiliates, WSVH/Savannah and WWIO/Brunswick, Ga. Russell has been active in the aircheck hobby since 1992. "I made 60 and 90-minute tapes of stations as early as 1979, but thought I was the only one who did this. Then, I discovered that other people did it ... this was a bona-fide hobby!"
The Repository thanks Russell Wells for sharing!