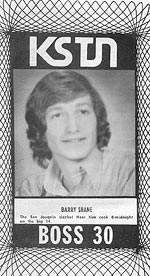 Barry Shane on the KSTN BOSS 30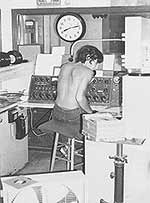 Barry Shane says the fan in the foreground was the only "air conditioning" at KSTN, or maybe his show was just too hot for Stockton?

And here is Barry Salberg, 2004.
Barry Salberg grew up in Portland, Oregon and the San Francisco Bay Area.
"I caught the top-40 era first-hand, from its beginnings in the '50's, through the glory years. My first radio heroes were Dick Novak on KPOJ, and Tiger Tom Murphy on KISN. I was perhaps uniquely privileged to have heard The Real Don Steele on a daily basis on both KISN (Portland) and KEWB (Oakland) when I was in high school, and then on KHJ when I was in college at UCLA.
I'm fortunate to have experienced so many of the greats in their prime, at so many of the legendary stations of the era. At UCLA, I shared the mic (on the student station) with classmates Billy Pearl, Steve Smokin' Weed, Ken Levine, etc.
Jerry Clifton hired me for my first job out of college at KDES in Palm Springs. I left for grad school that fall, but within a few months, was back in the biz, at KSTN in Stockton - ninety+ degrees in the summer, and no AC in the control room. Then onto KROY in Sacramento, where I split time simultaneously doing afternoons at KSTN (as Barry Shane) and weekends/fill at KROY (as Shane).
I left the full-time slot at KSTN, opting for part-time at KROY. Several months later, Gary Stevens (not that many years removed from WMCA) plucked my tape from a batch of hundreds, and hired me for 7-mid at KRIZ in Phoenix. It was a short-lived stint, I was a teen jock, and they went "heavy" soon after I got there.
I used the air-name of Barry Cannon in Phoenix, and kept it when I went back to KROY later a few months later. Just a few years after that, living in Portland and working (not in radio), I talked my way into 7-mid at KISN, some ten years after the Real Don Steele occupied that very same seat.
I've been back here in the Bay Area (for the most part) ever since. Got my MBA from the Univ. of Southern California, as a mid-career effort. I am now free-lance writing — magazine features,etc. and have byline credits in virtually all of the major golf publications (GOLF, Golf Digest, etc. - even had one in Sports Illustrated.) I'm one of the contributing writers on the EA Sports 2004 Tiger Woods video game, and also do lots of other writing and various Marketing Communications and PR work."