TOP STREAM 32Kbps (10Khz)

. . . If you're waitin' for someday to do somethin' - Don't Wait, 'cause maybe that someday ain't comin' . . .
[Description by Uncle Ricky for Contributor Eric Rhoads]
"I was visiting Chicago on business and had taken a recorder to record Chicago radio. I stumbled into Lujack in a somber mood. The longer I listened the more I learned the story of losing his son. This was his on air discussion and tribute after he returned from being away after his son's death."
- Eric Rhoads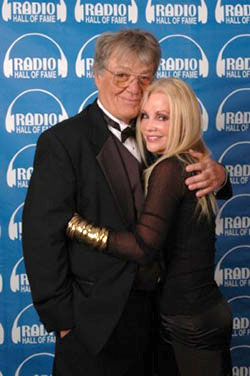 Larry and Judy Lujack, at the Chicago Radio Hall of Fame in November, 2008

This exhibit offers a rare, personal portrait of "Superjock"

Larry Lujack

, broadcast in the last half-hour of his June 2, 1986 afternoon show at

WLS

.

Just a week before, on May 25, 1986, his 22-year-old son John S. Lujack died of injuries after falling from the roof of a motel in Boise, Idaho. He had been a student at Boise State University.

Lujack, on his first day back at work, said nothing about his son's death for the first three and a half hours of his show. He knew his listeners would be curious, however, so he had pre-recorded this statement. This recording starts just as playback begins. There are a few minutes of follow-up comments from Larry and his sidekick Rich McMillan afterwards. Lujack left WLS in 1987 when ABC bought out his contract.

Larry Lujack died of esophageal cancer on December 18, 2013. He was 73, and had been diagnosed in January, 2013.

Larry Lujack, WLS Chicago, June 2, 1986