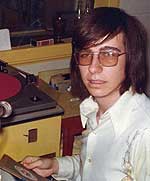 Eric Rhoads at WYYY, 1971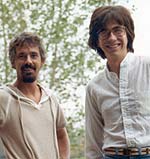 Jerry Clifton and Eric Rhoads, 1978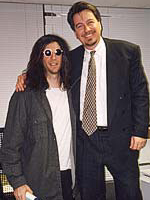 Howard Stern and
Eric Rhoads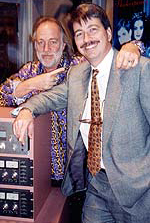 Dr. Johnny Fever
and Eric Rhoads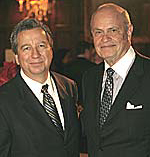 Eric Rhoads and
Senator Fred Thompson (d. Nov. 1, 2015)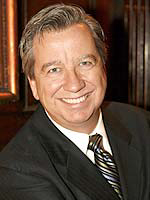 Eric Rhoads, 2006

Eric Rhoads started his radio career in 1969 at the age of 14 working as a DJ in Fort Wayne, Indiana at WITB and WLYV, and in Kalamazoo, Michigan at WYYY. At age seventeen, Eric's "big" break came when he joined the inaugural staff of Heftel Broadcasting's Y-100 (WLQY and later WHYI) in Miami, Florida working for Buzz Bennett, John Rook and later Bill Tanner. He went on to Bartel's WMYQ Miami which became 96X and was music director for Jerry Clifton. He briefly worked with Tom Birch at WQAM Miami. (Birch and Rhoads were air talent together at Y100). Rhoads' first programming gig was in Fresno, California where he beat legendary programmer Bill Drake with K104 (KIOY). Soon thereafter Rhoads and programmer Jerry Clifton formed New World Communications, a program consulting firm. Rhoads and Clifton programmed about 25 stations.
Rhoads owned his first radio three stations at age twenty-five, in Salt Lake City (KLRZ), Provo (KEYY) and New Orleans (KHAA). Rhoads sold the properties in 1986. He then founded Streamline Communications Corporation, which manufactured The Giant Boom Box, remote radio studios for stations around the Globe.
In 1987, Eric Rhoads purchased The Pulse of Broadcasting magazine. He changed the name to The Pulse of Radio only to find the magazine's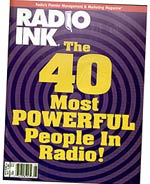 reputation issues could not be overcome, so at the suggestion of mentor Dwight Case, he changed the publication name to Radio Ink.
In 1997 Rhoads published his first book: Blast From The Past: A 75 Year Photo History of Radio.
Rhoads was featured on CBS, USA Today, The New York Times and hundreds of media outlets. Rhoads is also a published author in the Columbia University Media Studies Journal. Rhoads was the featured subject of an episode of the NBC sitcom NewsRadio.
The scope of Streamline expanded beyond Radio Ink with the launch of Streamline Press, a publisher of radio industry books and DVDs. Reacting to the start of the Internet Radio Industry, in 1999 Rhoads founded e-Radio magazine, the first publication dedicated to radio and the Internet. The scope of the publication was refocused in May 2000 and the publication was called STREAMING Magazine, which was later broadened to the title Digital Media. In 2004, the company launched its first non-industry related title: Plein Air Magazine, targeted to artists. In 2006, they launched Fine Art Connoisseur which targets affluent art collectors.
Today, Streamline also publishes web sites, and conferences including The Radio Ink Hispanic Radio Conference, Forecast '07, held annually at the Harvard Club; and Convergence '07 (formerly called the Radio Ink Internet Conference).
In November of 1999, Rhoads caught the dotcom bug and founded RadioCentral Networks, Inc., an Internet radio network of custom radio stations for the web's leading destination sites. Rhoads raised $18 million and created custom radio for many leading brands, including Earthlink, Lycos, About.com, A&E Television, and others. In 2002 the company was the most listened to online radio network. Rhoads maintained his involvement with Streamline throughout his tenure at RadioCentral. Rhoads was also an initial investor in SuperRadio Networks, which was sold in 2004.
Rhoads is a collector of antique radios and microphones and is an accomplished photographer and oil painter. His photographs and paintings have been represented in art galleries in Seattle, Washington; Santa Fe, New Mexico, and Palm Beach, Florida.
Eric is pleased to share selections from his aircheck collection at REELRADIO.