A SPECIAL EXHIBIT FOR CHRISTMAS SEASON, ONLY

TOP STREAM 64Kbps PARTIAL STEREO (14KHz)
The REELRADIO Holiday Jingle Composite (10:58)
. . . a red suit with black patton leather choos . . .
[Description by Uncle Ricky]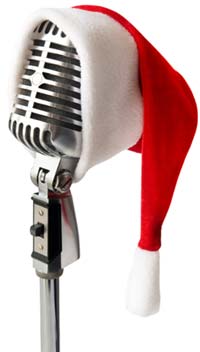 2017 Encore Presentation!

REELRADIO has been featuring holiday jingles since our first Christmas online (1996), and twenty years later, we're pleased to present an encore presentation of this 2006

Holiday Jingle Composite

showcasing many of our favorites and a few "new" cuts not previously featured.

This composite is possible due to our generous contributors, notably:

Tom Corbett

,

Tracy Carman

of

Media Preservation Foundation

,

Ed Brouder of Man from Mars Productions

,

Jon Wolfert of JAM/PAMS in Dallas

, and yours truly,

Uncle Ricky

.

Some of the vocal work, especially on classic acapellas from Dallas, can make you misty! Merry Christmas to Chicagoland for

WLS

shares a sentimental spotlight in this composite with a 2006 newcomer: Merry Christmas to WoWoLand for

WOWO

(Fort Wayne, Indiana). The greatest groups and legendary logos, simply the best of Christmas Past with best wishes for today, tomorrow, and a great year ahead. Happy Holidays from REELRADIO!