TOP STREAM 32Kbps (12KHz)

Long John Silver, WAYS Charlotte, N.C.,
April 23, 1968 (59:38)
. . . on the Long John Silver underground program, at nine oh nine on the vine . . .
[Description by Uncle Ricky]

Long John Silver. Picture courtesy Ron Brandon.

There's no question that many of the airchecks in this Repository get a few of us a little misty from time to time, and this one brought tears of joy to the eyes of your curator. While I don't remember this particular hour, or many of the included elements,

Long John Silver

and

BIG WAYS

was all I needed to know my junior year in high school. WAYS was always the loudest radio station on the Delco radio in my Camaro. I was working in radio (and TV) during the time Long John was on WAYS, and I often chose him over the unpredictable skip from Chicago.

This aircheck has so many examples of what made WAYS the King Of The Carolinas from 1965-1971. Jack Gale is heard with one of many BIG WAYS versions of "imaging" - a promo about the (genuine) WAYS community outreach efforts. BWB Number Three is coming up! And there are jingles, between the spots, before the records, LOTS of PAMS jingles. Plus: Tonto and Super Wonder Dog Blue (the world's only talking St. Bernard).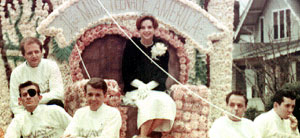 The 1965 BIG WAYS Charlotte Christmas parade float, covered with flowers! Left: JJ Jeffrey, Long John Silver, Ron Brandon; Center: Miss Teenage Charlotte (honored guest); Right: Jack Gale, Melvin (John Foley, deceased). Picture courtesy Ron Brandon.

Many classic spots of the period, too. Lots of 'em, because WAYS made LOTS of money. Note the short separation between the beer sponsors! Most of this exhibit includes the music, some songs were incomplete and therefore edited to "fair use" status, one song was restored, and some editorial decisions may have been made regarding overplayed oldies.

I hope that everyone who came of age in the 35 North and South Carolina counties where and when BIG WAYS was #1 will relish this remarkable replay of our youth as much as I did. My sincere thanks to contributor Harold Ballard for this delicious reminder of what I can never forget.