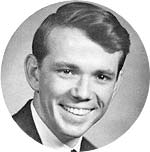 Ron Brandon at WAYS, Charlotte, NC, circa 1966.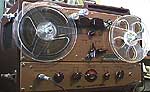 A Magenecorder M-30 full track "portable" tape deck, mid-1950's. (Courtesy reel2reeltexas.com.)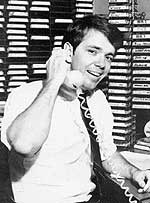 Ron Brandon at WLEE, Richmond, VA, circa 1969.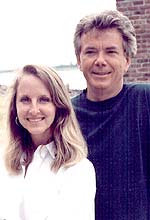 Mrs. Deborah Brandon, (The former Deborah Pickens, Associate Editor, Radio Music Report), with Ron Brandon at Fort Sumter, SC, 2003.


In the tenth grade in Memphis, Tennessee, I elected to take a course in "radio" (it was that or bookkeeping, tough choice). Turned out that the FCC inspector came to town four times yearly to administer tests for various licenses. In order to get out of school, we would always take a test. Got a ham, second class telegraph, and first phone licenses before graduating high school. Then a fellow from WTUP in Tupelo, Mississippi called and wanted to know if I would be their engineer (all stations had to have first phones in those days). Sure, why not. He let me run the board, and eventually play some top 40 at odd hours.
For you Elvis fans... when Elvis came back to Tupelo in '56 to play a concert at the fairgrounds.. I was in control of a one-track Magnecorder (who remembers those?) and the interviews with Elvis, and his mom and dad on that 50th anniversary album were recorded by me. When showtime rolled around, novice that I was, I asked the RCA man if I could record the show. He, of course, said Hell no!. So I shoved the recorder under the stage, snaked a mike out in front of the speaker, and recorded it. When Elvis' mom died, I sent him a copy of the tape, and RCA found it in the closet at Graceland after his death — and that's the concert you hear on the album. History!
On to WMOC in Chattanooga for six months, then to WNOE in New Orleans. What a thrill working 9p-1a at a top-40 of that era that covered three states at night! And the road unfolded: BIG WAYS in Charlotte — a truly legendary station working with Jack Gale, J.J. Jeffrey, and Long John Silver. WLEE Richmond for my first taste of programming, and I hosted a weekly dance party on WTVR-TV6 and promoted concerts (Hendrix, Supremes, Chicago, The Who, etc). I was PD at WGOW Chattanooga when Ted Turner owned it, and spent some time at WSAI/WJDJ Cincinnati, one of the "DJ" stations. And it was while I was at WORD in Spartanburg S.C. I bought a "tip sheet" — Southern Music Survey from Dick Reus — for $1000. It was started by Paul Drew; Dick wanted to sell and get into record promotion.
I had the sheet (Radio Music Report) for about six years, moved to Atlanta, and had about a dozen conventions. I got to know a lot of great people, like Scott Shannon, Ole Bear Davenport, Charlie Minor, John Long and others. The magazine failed in the depression of 1980, and it was back to radio for a living, first at WCAW/V100 in Charleston, WV, and then WGRD Grand Rapids, MI, plus an effort as GM at a couple of stations. Burnout, and the advent of consultants, rigid formats and playlists, etc. wrote it on the wall for me. I "retired" to Charleston, SC and got into the nightclub biz some 12 years ago. Still active as ham (N4AH) and play a lot of golf.