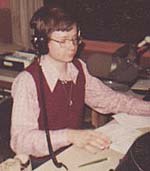 John Quincy on WEKY, Richmond KY, 1972 (Age 17)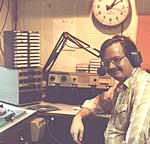 John Quincy on WAXU, Georgetown-Lexington KY, 1979 (Age 24)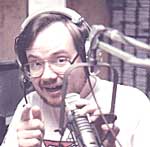 John Quincy on WSSX, Charleston S.C., early 80's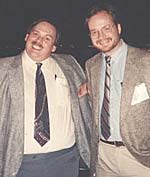 The Legendary Big Ron O'Brien and John Quincy, R&R Convention,
early 90's
Even though he was born 15 years earlier, Lexington, Kentucky native John Quincy (a.k.a. Ted Tatman) didn't really discover Top 40 radio until he smuggled in a transistor radio to his church camp outside of Louisville in the summer of 1970. After a few hours of listening to the legendary WAKY in his dorm room, he caught the radio fever. Upon his return to Lexington and a visit to local AM-ers WVLK and WLAP to find out how radio stations really performed that on-air magic, he was hooked.
Luckily, an English teacher at his high school told him about a Junior Achievement program being sponsored by WVLK-AM. Every Wednesday night, WVLK would turn over a half hour of their programming to high school kids, who would sell, operate, and program it. Quincy made sure he was one of the ones chosen to be one of the teen DJs.
Between his junior and senior year Quincy scored a summer job working seven days a week at WBGR AM & FM in Paris, Kentucky. Most of the time was spent running Cincinnati Reds baseball games but for a little while each shift he got to play DJ. It was country music (which was especially bad in the early 70s) but it was radio. From that point, Quincy never looked back.
There were stints in other Lexington area radio stations (WEKY, WAXU, WCBR, WKDJ, and WBLG) before Quincy got the call in 1979 to escape Lexington's awful winters and work in sunny Savannah, Georgia (WKBX and WZAT). Then in 1981, Quincy moved up the coast to Charleston, SC to take on PM drive duties at WSSX. Later Charleston gigs included AC WXTC (where he spent nearly 10 years as PD), All 70s WJUK, Country WBUB, and Oldies WXLY. Subscribers to Tom Konard's Aircheck Factory service might remember John Quincy as one of the narrators of "Around The Dial" and various profiles.
Today Quincy is the assistant program director and morning producer at News/Talker WTMA in Charleston. Along with his radio work, he creates and maintains Web pages plus does regular mobile DJ gigs.
The Repository thanks John Quincy for sharing!