TOP STREAM 32Kbps (10KHz)
Bobby Rich, KFMB-AM Turkey Hour, March 23, 1976 (58:21)
. . . they're raunchy, they're lovable, but most of all - they're lovable . . .
[Description by Uncle Ricky]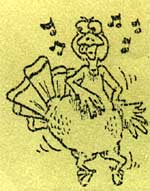 The Dancing Turkey, from the Official Gobblegram
Gobble Master Bobby Rich springs into action on March 23, 1976 on "One of America's radio stations" with another Turkey Hour featuring contributor Jim Bartels. Jim appeared several times with Bobby on KFMB-AM in San Diego.
Jim succeeds in his effort to Stump The Jock - "Mr. Music" goes out 3-1! And the Four Preps More Money For You And Me is definitely one you don't hear anymore, anywhere, anyhow, anyway...
And it is only appropriate that the third known recording of this classic LOCAL radio program should include some technical snafu. The receiver was off-tuned and at points, there's serious splatter. But after all, it's a Turkey.