TOP STREAM 32Kbps (11KHz)
Bobby Rich, KFMB-AM Turkey Hour, August 16, 1976 (01:00:00)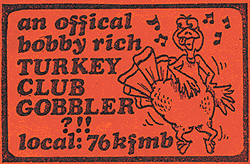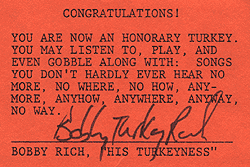 Official Turkey Club Membership card,
front and back.

. . . Now, just to show you that talent runs in the family, here's Rosie's brother on the saxophone . . .

[Description by Uncle Ricky]

Jim Bartels, the contributor of this exhibit, appeared several times on The Turkey Hour with Bobby Rich, on KFMB-AM in San Diego. For Thanksgiving 2005, we are pleased to present Jim and Bobby in a previous broadcast from March 23, 1976.

This hour features "the best and worst" of the Turkey Hours. It's "filled to the brim" with gobblers and includes a "Stump The Jock" segment. On this program, the second of the "second and final year", Guest Turkey Jim is "offically indoctrinated within the Turkey Hall of Famine" by Bobby.