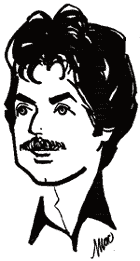 Caricature Jeff Roteman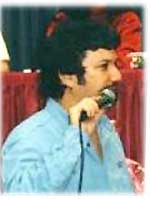 Jeff Roteman, author of Jeff Roteman's Radioville grew up in Pittsburgh during the heyday of Top 40 radio. Pittsburgh was a top 10 market, rich with radio history, including two of the very first stations in the nation, KDKA (the first commercial station, signing on in 1921) and KQV (first on the air as a non-commercial station in 1919).
Jeff writes, "It was an exciting time for radio as the stations did battle. KDKA with 50,000 watts and all the heritage against KQV, the first ABC owned station to make the switch to top 40. The stations' battles were fierce; KQV went as far as to steal the Beatles 1964 concert from KDKA and broadcast it on a short delay to beat KDKA.
As great as the music was, it might have been the jingles that really made me a confirmed KQV listener. KQV was always adding new jingles, up to twice a year they would buy a new PAMS package. Those great Series 18 jingles with the sonovox were just too cool. Like most kids of that era my radio was always on. I'd spend hours with the transistor strapped to the handle bars of my bike listening to the Finest Forty.
So many radio greats came through Pittsburgh during those years, including WLS Program Director John Rook and personalities Fred Winston, Gary Gears, Kris Erik Stevens, and WKBW's Jim Quinn. WABC's Bob Lewis did a vacation fill-in once at KQV, and in the 70's, Rush Limbaugh played the hits on KQV as Jeff Christie.
I did the local broadcasting school thing in 1970, but only did radio part-time until 1988. After all those years I finally decided to give it a try full-time. In 1988 I moved the family to central Pennsylvania and started at 98YCR in York, Pa. While doing weekends, I also did afternoon drive on the A/C sister station WHVR. I had the chance to work with Willie B (formerly of Baltimore's B-104and LA's 10Q), and Davy Crockett (formerly with Philadelphia's Eagle 106). I spent the next few years at 98YCR as music director as well as working oldies at KOOL 99.3 with Al Brock and RJ Harris in Harrisburg.
After a short stint at WHTO in Williamsport, Pa. as music director and assistant pd, I moved on to Chambersburg, PA. doing mornings at what was Kiss Country 94.3 as J.P. McCartney in the McMorning. As of March, 2001, I've moved over to the Hot A/C station owned by the same company, WIKZ, MIX 95.1. I've been doing middays since July 2004, and I'm still Music Director."