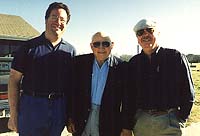 (l-r) Tracy Carman, Media Preservation Foundation, Jim Wells and Jodie Lyons, Futursonic Productions. When this photo was taken in 1995, Jim and Jodie hadn't seen each other in 30 years.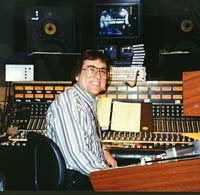 Don Worsham doing sound stuff.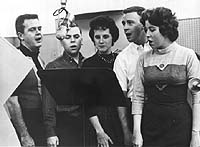 Futursonic's Versatiles vocal group, 1960. (l-r) Jodie Lyons, Brian Beck, Libba Weeks, Jerry Whitman and Judy Parma.
The Media Preservation Foundation, a not-for-profit organization dedicated to the preservation of media archives, is a labor of love for Tracy Carman of Massachusetts and Don Worsham of California. In 2000, while tax-exempt status was pending for REELRADIO, Media Preservation Foundation established a fund for contributions to keep the REELRADIO web site online.
The Foundation's archives include, but are not limited to:
Radio station airchecks, radio station production, radio shows, commercials, jingles, et. al.
Print media, such as newspapers and historic photo archives.
Visual materials, such as old television programs on both film and magnetic media, film libraries, commercial productions, et. al.
The Foundation's objective is to "acquire the items before they make their way to a dumpster." It is the Foundation's intention to make these archives available to the public for research and educational purposes.

Don Worsham has been researching and writing a book on radio ID jingles for several years, which the Foundation hopes to publish. Collectors wishing to contribute materials to the Foundation can contact Tracy Carman via e-mail, or write The Media Preservation Foundation, Box 61223, Longmeadow, Massachusetts 01116-6223. Visit Media Preservation Foundation on the web at www.jingles.org

The Foundation has received both financial and material contributions to date from the Estate of Ron Lewis; the Estate of Edith Siday; Brian Beck; Ed Brouder of Man From Mars Productions; Bob Craig of WPEN Radio; Ken R. Deutsch of Ken R., Inc.; Ben Freedman of Ben Freedman Productions division of CPMG, Inc.; Chuck Herlihy of WEAT/WIRK Radio; Radio Historian Peter Kanze; Jack Kratoville of New York's WLTW (Lite-FM); Bill Shannon of Charleston's WXLY; Doug Allen Wedge; Jodie Lyons and Jim Wells, both formerly of PAMS Productions and Futursonic Productions; and Jonathan M. Wolfert of Jam Productions, Inc. amongst countless others.