KM Richards, KOVA, 1974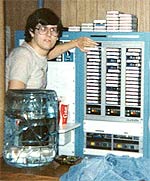 KM Richards and Schafer 903 Automation, KAAP, 1979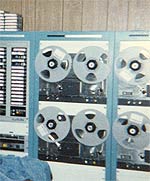 KAAP Schafer 903 Automation Reels, 1979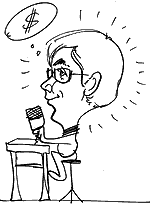 KM Richards caricature
To completely rip off the infamous Ted Baxter biography introduction from "The Mary Tyler Moore Show" — it all started at a 130-watt radio station in Ojai (Ventura County), California. That was where, during the summer of 1973, between my junior and senior years of high school, I began working for KOVA, with its mix of beautiful music instrumentals, vocal standards, big bands, and (at night) classical music. I might not have been "playing the hits" but it was radio, and this 16-year-old really wanted to be on the air!
Fast forward to 1977: 50,000 watt Top-40 powerhouse KACY was buying KPMJ-FM and one of the latter's announcers had decided not to stay on until the sale. Not knowing what was going to happen, but seeing an opportunity, I moved to KPMJ, helped launch a beautiful music format there — and got tossed out the door with the rest of the airstaff six weeks after we moved into our new studios at the KACY building.
But unemployment was not to last long, because crosstown KAAP-AM/FM had just started simulcasting. The mom-and-pop owners were horrified, once the simulcast began, at how terrible it sounded (apparently they had never really listened to their own FM). But they had a solution: Program a contemporary station for 20-to-40 year olds, and hire someone from that demographic as the PD. My involuntary exit of KACY was their motivation to implement that solution, and after about three minutes spent convincing me to come aboard, I found myself in my first PD gig, at the ripe old age of 22! We ended up being the first true adult contemporary station in the Ventura-Oxnard market, reaching 5th place among 18-34 listeners in the first book — with no outside promotion, yet.
KAAP was sold in 1981 and I moved on to the APD slot at KBBY, which somehow included an airshift on country KBBQ. It was out to the Antelope Valley a few years later for afternoon drive at KDOL (where I also voicetracked middays at co-owned KTPI) before returning to Ventura for middays at KMYX, which had morphed from the KOVA that I had begun at a baker's dozen years previous to an Urban Contemporary format.
All of this led up to the part of my on-air career I loved the most. In 1987, Y-97 in Santa Barbara had an opening for a full-time weekend/utility/production person and I was visiting with then-PD Steve Smith just when he was looking to fill that slot. Steve had a great instinct for what that market needed and his hybrid Urban/New Wave format was #1 for several books in a row; when he left for greener pastures a year later, I got plugged into his afternoon drive shift "temporarily" only to have new PD Mike Schaefer decide to keep me there. The next book, I had an unheard-of 23 share (12+), only to get blown out by a GM who didn't understand why I didn't drop everything when an advertiser called me on the request line, on the 4th of July, wanting his copy changed. (The station went completely into the dumpster the next book.)
I somehow managed to get in with Los Angeles market rimshots KGIL and KWNK, coordinating the latter's switch from satellite music to talk in 1989, before returning one last time to KMYX, which had then gone "album-oriented country". I did morning drive as well as APD/MD duties until it was sold at the end of that year.
Since then, I've done my fair share of consulting — the historic occupation of burned-out programmers who had one too many gig that included on-air work — and have put out a lot of fires without any fanfare or public credit. But I'd still put on my PD stripes again if the right opportunity came up (don't we all say that?).
The Repository thanks KM Richards for sharing!