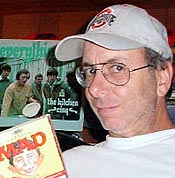 Steve DiCo Mannix, 2009 I was born in Connecticut, USA in 1961. I listened to WABC, WQQW, WPOP, WDRC(AM) and WAVZ in the early 1970s and WRCQ (mostly oldies format) in the late 1970s. I remember Harry Harrison the most from WABC in the early '70's. KHJ, WIXY, WQAM, WFUN, WMCA, WABC, WFXM, KYA and KRIZ are among my favorite mid '60s stations. Yes, there are many others I haven't mentioned.
I am sure I listened to radio at seven years old, but by then, I missed GREAT radio. Born too late. I first got into oldies back in 1976, when to me, Top 40 had started going downhill. In 1978, I bought Liar, Liar by The Castaways on a reissue b/w Run, Run, Run by The Gestures out of Minneapolis, MN. I said wow, there must be other great records that sound like this! I found a reisssue of Lenny Kaye's Nuggets album, then in a record collectors magazine, this guy wanted to trade 60's Garage music. We traded and he sent me a WCFL (Ron Britain, Barney Pip, Jim Stagg) tape. WOW! That was my first aircheck! I thank my buddy, the Kaptin from Ohio, for that one.
Since the early to mid 1980s I have been collecting '60s airchecks. I mostly love the '65 to '67 era, but I spillover a few years in both directions. Thanks to Tom Konard's Aircheck Factory and my trading friends. I hope to contribute more in the future. My brother made tapes for my other brother who was in the Navy, back in 1968-1972, and my next-door neighbor, Lou, gave me a few tapes to dub. Thanks to all!
The Repository thanks Steve DiCo Mannix for sharing!