[Description by Ed Brouder]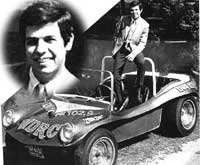 Joe Hager with WDRC's Little Dee Dune Buggy, 1969

The son of a Philadelphia jazz musician, Joe Hager (1945-1999) began a 35 year radio career at the college station at Rutgers University. On either side of a tour of Vietnam with Uncle Sam, his voice graced the airwaves at stations in New Jersey, Delaware, Connecticut and Florida.

One of his longest stays was at WDRC in Hartford (1969-1972) where Charlie Parker hired him for middays on AM. But his high-energy style soon earned him the nickname "Highgear", and the 7PM to midnight shift simulcast on WDRC-FM.

Off the air, Joe was friendly with his crosstown rival, Frank Holler. It was not unheard of that they would call each other's hotline and arrange to play the same songs at the same time on Big D and WPOP.

Before and after Hartford, Joe worked at WAVZ, New Haven. His travels took him to WIFE Indianapolis, KDWB and KSTP Minneapolis, and several Florida markets. His most recent home was WKQL Jacksonville, where he hosted afternoon drive as "Smokin' Joe Beamer." Also known as "Smokin' Joe Hager", Joe passed away February 23, 1999 and is survived by his family and wife, Andre.