TOP STREAM 32.0Kbps (16 Khz)


Dale Dorman Composite, WRKO Boston, 1970s (07:56)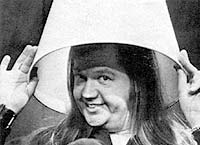 Dale Dorman, circa 1973

. . . I wanna hear a "more music" with one turntable . . .

Description by Uncle Ricky

This composite of Dale Dorman on WRKO may include segments from programs as early as 1971 and as late as 1974. Dorman is typically funny as he investigates a turntable problem and struggles to suppress his amusement over the phrase "two abreast" in a TWA spot. This composite (and the featured photo) was published in Volume 2, Issue 15 of Programmer's Digest, dated April, 1974.

Dale Dorman passed away on October 25, 2014 following a long illness. He was 71.