TOP STREAM 32.0Kbps (16 Khz)


PD Profile: WLAV, Grand Rapids Michigan, 1973 (09:00)

. . . She's not a tired female reporter . . .

Description by Uncle Ricky

This profile of WLAV in Grand Rapids, Michigan appeared on Volume 1, Issue 18 of Programmer's Digest, dated July 2, 1973.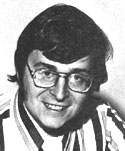 Bob Hamilton

Larry Ryan

of

KEEL

in Shreveport, LA. introduces

Bob Hamilton

(the one who looked a bit like

Bill Gates

) and Hamilton introduces his newsGIRL and his manly staff of Top 40 DJ dudes.

As you will hear, the technical staff at Programmer's Digest never worried about tape head alignment and what happens to misaligned two-track tapes when they are hard mixed to mono.

But what a trip it was to get these recordings of far-away radio stations in 1973! Even today, we may never have heard of this station, were it not for the efforts of Buddy Blake, publisher of Programmer's Digest.