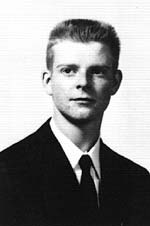 Steve Farrington, then.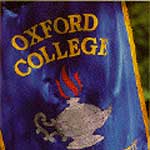 Where most of these airchecks were made.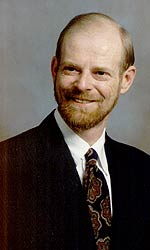 Steve Farrington, 1998.

Steve Farrington was a long-time supporter of REELRADIO. His collection first appeared on December 6, 1998. Steve passed away on Wednesday, April 21, 2004, following surgery for cancer. Remembrances are welcome here.
When Steve first contributed his airchecks to REELRADIO, he wrote:
"It all started with a high-school graduation gift from my parents, a Webcor (I think that was the brand) suitcase-type reel-to-reel recorder..."
"I graduated from Greensboro (Grimsley) High School in North Carolina. The year was 1962, and I guess the biggest claim to fame for this school in recent years is a famous alumnus — Rick Dees himself who finished 6 years later. (By the way, Rick is very active in alumni affairs. Thank you, Rick!)."
"Before long I was off to Georgia for a two-year stint at Oxford College, a division of and original campus of Emory University. My junior year and part of the senior year were spent at the main campus in Atlanta. It was during these first three years of college that the Webcor was put to fair use recording from the radio. After 1965 the recorder and tapes went into storage at my Mom's house in North Carolina. During the next 13 years, I lived in Jackson, Mississippi (where I obtained a B.A. degree from Millsaps College in 1969), Atlanta (twice), Dallas, and Washington, DC. I have been back in Atlanta now since 1978 — sure feels like home to me."
"The story of finding old tapes in closets, basements, and attics is certainly not unique. That's exactly what happened here. I had all but forgotten about these tapes until the day I happened upon Uncle Ricky's Repository. I thought I remembered that my tapes had disappeared at some point years before in a family move. However, I searched through my Mom's more recent attic in August (1998) and...BINGO...there they were in a footlocker which I had used during earlier college days. (The Webcor, however, was not to be found.) I hope you will enjoy these exhibits. They are very crude — a lot of editing was done at the time of original recording. Most of these exhibits have been pieced together from non-contiguous segments. Snippets or not, I think you will relish these bits of Top 40 radio in its high-riding days."
"I work from Atlanta as a self-employed manufacturers' rep and have run my own business since 1986 selling finer stationery products to specialty retail stores."
"I would especially like to thank the following people who have helped point the way toward this new interest in my life: Uncle Ricky himself for having the most fantastic website in the world (and for me, the most appreciated); to Tom Konard of the Aircheck Factory who has been a very important resource in my collecting endeavors; to Russell Wells, a radioman in Troy, Alabama who has the most fantastic collection of Southern airchecks anywhere; and to Don Keith in Birmingham, Alabama, a great novel writer and a great dj. Without you guys, my tapes might still be in the attic..."
Steve Farrington maintained "A CELEBRATION and REMEMBRANCE of BYGONE SOUTHERN RADIO and RETRO DIXIE CULTURE" at www.wakeatlanta.com.
The Repository thanks Steve Farrington for sharing!